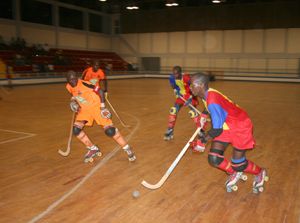 Even with the frustration of Angola in last World Cup, the skates doesn't stop, and once again the "Campeonato Nacional Unificado" (Unified National Championship, because Seniors and Juniors plays together).
With 13 teams, this can be one of the best editions, confirming Angola as a new Roller Hockey Power.
The teams to compete are: 1º Agosto, 1º Agosto Juniors, Clube Académica de Luanda, Clube Académica de Luanda Juniors, GD Banca Juniors, GD Juventude Viana, GD Juventude Viana Juniors, Hóquei 2000, Hóquei 2000 Juniors, Kabuscorp, Petro Atlético Luanda, Petro Atlético Luanda Juniors, Sport Luanda e Benfica.
The Championship will be played weekly,on Saturday (morning and afternoon), and sometimes on Wednesday and Thursday (end of afternoon and night). Each team will play with the others just one time, and the forth first classified of the group will play the playoff. The semifinals will be disputed according to best of 3 matches and the final to best of 5 matches.
The place where the matches will be played are "Pavilhão da Cidadela" and "Dream Space".
Unhappily once again the teams are concentrated in Luanda. For example Hóquei Clube do Lobito and Ferroviário do Namibe, teams that played other editions of this Championship and also other Roller Hockey tournaments, and come from other regions of Angola will not compete.
It's very important that next season Angolan Federation, can change this situation, because as known Angola will be the host country of 2013 World Cup, and the promotion of Roller Hockey in all country will gain other image if teams coming from several regions could compete.
The results of 1st Day (15.10.2011) were:
GD Banca Juniors 3-2 Hóquei Clube 2000Académica de Luanda Juniors 3-1 Juventude de Viana Juniors
Sport Luanda e Benfica 4-1 Hóquei Clube 2000 Juniors
Kabuscorp vs 1º de Agosto Juniors (Kabuscorp lost due lack of players) Petro de Luanda 5-2 Petro de Luanda Juniors
1º de Agosto - Académica de Luanda (still unknown)
In 19.10.2011 an 21.10.2011) was the 2nd Day of Competition and yesterday the 3rd Day.
Until now the results were not announced by the federation and Angolan newspapers.
Next Journey will be played in 26th and 28th of October.
The work done by FAP is improving year by year, but still there's a long way to cross, until reach the quality of National championships of Portugal, Spain and Italy, or of other sports like football, basketball and handball in Angola.
Soon should be good a contract with TPA (Angolan Public TV) to broadcast a match each week.
Jornal de Angola reported also that soon will start other Championship in Angola, and this one will have only senior teams, and fortunately two of them will come from other regions than Luanda, Benguela and Malange.
Consult all schedule here:
http://www.fap-patinagem.com/component/option,com_joomleague/p,70/func,showResultsRank/Itemid,29/
Source of info:
http://jornaldeangola.sapo.ao/16/33/campeonato_unificado_arranca_hoje
http://jornaldeangola.sapo.ao/16/33/bancarios_surpreendem_na_estreia
Tweet