As announced by
CSP
(South American Confederation), this year there will exist 2 American Competitions organized by
CBHP
(Brazilian Roller Sports Confederation).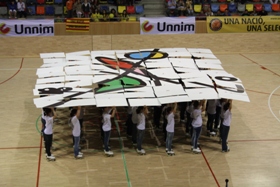 Logo of Copa America last edition, the best ever
Copa America, after the best Cup ever hosted in Vic, Catalonia, will return this year, with the Women's Competition. The Championship will be held from
07 to 12 of November 2011
, in
São Paulo
, Brazil.
Last time Women's Copa America was played by 8 teams: Catalonia, Argentina, Chile, USA, Uruguay, Germany and South Africa. The last 2 countries were invited to enlarge the tournament to has more competitiveness.
10 Countries were presented (3 not from America)
It would be great that Brazilian Edition could receive more countries like Colombia (present in the
2010 FIRS World Cup
)
To note that Brazil will receive next year the
2012 FIRS Women's Roller Hockey World Cup
for the second time after 1996 Edition, hosted in Sertãozinho.
2010 South American Club Championship (Photo:Mundook)
Otherwise the
2011 South American Roller Hockey Clubs Championship
, will be also hosted in
São Paulo
, from
29th November to 3rd December of 2011
.
If we take a brief look on the teams of last editions, is possible to see that Argentinian and Chilean were the most present. Thereby this organization will assure the presence of Brazilian teams, and who knows if teams coming from other countries, e.g Colombia, Mexico, Uruguay, USA ... (
as happened in 2007
).
In 2010 the teams presented were:
Argentina:
Concepción PC, Estudantil San Juan, Olímpia PC
Brazil:
Português Recife
Chile:
Universidad Chile, Estudantil San Miguel, Subercaseaux Llano, Universidad Catolica
The information of City to host and dates of the tournament was confirmed by CSP.
If do you have some questions send an email to
cspatinsecretaria@gmail.com
.
America (South and North) needs to Roll Together!!!!!
Read the letter of CSP on:
http://www.cspatin.org/doc/020-2011afiliadas.pdf
Tweet